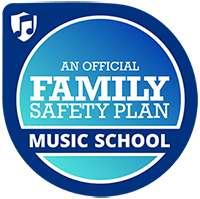 We are an Official Family Safety Plan Music School!
Ray Mullin Music offers music education for individuals of every age and skill level. Whether you're planning on pursuing a career in music or just want to have some casual fun learning an instrument, we'll help you achieve your goals!
At Ray Mullin Music, we provide private instruction for guitar, bass, drums, vocals, piano, ukulele, brass, and woodwind. Our instructors are highly skilled and educated at the college level. We take pride in our diverse group of instructors' musical styles from Jazz to Classical to Metal. You tell us what your goals are, we'll put you with an instructor who will accommodate your needs.